Window Signs & Graphics
View Window Signs Gallery
Your window decor, or lack thereof, provides a lot of information to potential customers, whether you are operating a business that provides products, services or a combination.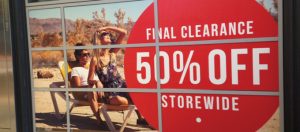 There are several things that can be accomplished when you add the right signs and graphics to your windows. First of all, you are providing greater privacy for your patrons. You can also use this space in order to run promotional ads for certain services or a hot product. At Extreme Signage, we are dedicated to providing the best designs for our clients. As vinyl window graphics experts, we create window clings and other displays that are sure to attract the attention of passerbys.
Call Extreme Signage today at (727) 592-5509 for a Free Consultation with a Window Signs Expert!
Window Signs For All Businesses
No matter what type of business you own, Extreme Signage can create the perfect graphic designs to represent you. Work with our on-site design team to develop content that is consistent with your brand and conveys the proper message to existing and potential customers.
Our product offerings include:
Promotional Banners
Window Clings
Privacy Film
Full Color Posters
Window Lettering
Window Graphics
And Much More!!!




Are you unsure about which vinyl products are most suited to the needs of your business? Don't worry! At Extreme Signage, we provide free consultation services with one of our sign specialists. During this time, we will make suggestions based on years of experience to help you stay within your budget, enhance your brand image, and more.
Window Signs For Retail Stores
There is a good reason that retail outlets take advantage of their window front displays. When folks see an attractive display, their attention lingers. The people passing by your business are more likely to stop in if your windows have information that pulls them in. Sales, promotions and new products are all great ideas to get you started.
Many businesses update their window displays with each new season. This allows you to display and advertise the hottest items you have in stock for the upcoming months. Our graphic designs are meant to entice people and keep their attention while remaining professional at all times. The signs, banners and other offerings can be used to promote your sales and build up your customer base.
Privacy Window Vinyl For Offices
Privacy is essential for many different office settings. Legal firms, real estate professionals and mental health practitioners are just a few of the professionals who need to provide their clientele with greater privacy than retail outlets. We have affordable vinyl options that provide either a frosted or etched glass look to the window. Meanwhile, you don't have to shell over the big bucks associated with the installation of frosted glass panes.
As an added bonus, you can have your company name and/or logo incorporated into the design. Additional branding with your customized privacy film makes good sense in many cases. Talk to our glass specialist about the vinyl film options available and which are most suited to your business needs.
Window Signs For Service Providers
JEvery business can take advantage of window display opportunities, even without retail products for sale. If you have a service-based company the windows are an ideal location for you to grab attention. Showcase special offers or top of the line services. Perhaps you might opt for a window mural that reflects your business mission statement and customer service intentions. We will work with you every step of the way.
Free Window Sign Consultation
At Extreme Signage, we are here to help you find the best window solutions for your business.
Call Extreme Signage now at (727) 592-5509 for a Free Consultation with Window Signs Expert!