Coronavirus Signage
Effective, brand-promoting, and client and staff supporting signs and graphics are fundamental to your company or organization, and can provide further benefit as we manage Covid-19. From helping guests with wayfinding to keeping staff safe in dangerous work areas, your unique, branded signs keep operations running smoothly.
Trusting a talented professional makes choosing the right indoor signs and graphics easier. Multiple factors need to be considered, such as your commercial sign goals and objectives, how customers navigate and interact with your space, legal regulations, and even your commercial signage placement can all have an impact on the type and number of signs you choose for your business.
Extreme Signage not only provides signs and graphics, we understand how targeted signage can be used to control business wayfinding, support, motivate, or protect your team, and make sure your brand gets remembered. By building effective signage elements that are created specifically for your company, specifications, and location, we bring your organization to greater heights.
Call Extreme Signage at (727) 592-5509 for your Free Consultation!
Wayfinding & Safety Hospital Signs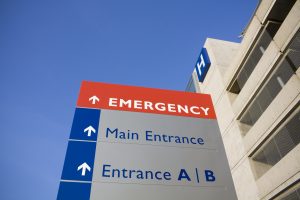 When faced with a health related emergency including the coronavirus, in particular Covid-19, it's crucial that both incoming patients and hospital staff can quickly and easily determine where they must go and the shortest or safest route to get there. Functional directions, important information, and warnings should be evident prior to the patient ever coming in the medical center. This is the reason hospital signage and well-placed wayfinding signs are essential. The most effective signage is able to support more efficient facility navigation, work as a reminder to conform with safer habits, and lessen the possibility of further spreading disease by lessening physical contact.
Unmistakably mark acceptable parking zones and provide inbound traffic by providing instructive directions using functional hospital signs and wayfinders by Extreme Signage. To boost your sign and graphic visibility at any time of day, we deliver highly reflective signs and graphics. Supportive indoor hospital signs and graphics can be as quick as increased hand washing notices, important reminders of increased security and safety practices and procedures, and additional directional support signage to help cut back on in person support.
Whether you would like to provide easy parking and unloading support or help keep new patients experiencing health conditions other than Covid-19 continue to be free of the virus, useful sign elements may help decrease health risks to you, your hardworking team of medical care professionals, and your new and returning patients.
Assisted Living & Nursing Home Signage
When your nursing home or assisted living facility is facing a health related emergency situation including Covid-19, it is crucial that incoming residents and hospital employees understand where to go and how for getting there. Functional directions, instructions, and warnings will need to begin even before the patient ever steps inside the nursing home.
This is the reason why nursing home signs and wayfinders are critical. Efficient signage supports streamlined patient service, serve as an important reminder to conform to safer practices, and diminish the chance of further spreading illness by limiting in-person interactions.
Interior nursing home signs and graphics can be as basic as increased hand washing signs, information regarding safety procedures and practices, and increased navigation assistance sign and graphic elements to limit human communication. Practical signage elements will help to minimize health risks for you, your reliable team of health specialists, and your patients.
Business Update Signage
Is your business experiencing adjustments to your open hours or your practices and processes in effect to the coronavirus? Specific, supportive signage can help your customers recognize the best way to still do business with you while dealing with the current limitations.
In order to reroute your clients to your pick-up area or drive-thru, provide up-to-date hours of operation details, or display updated phone or contact information your visitors can use to reach out to you if your commercial facilities are not accessible to drop-by guests, Extreme Signage manufactures the professional signage components you require.
Our experts offer restricted exposure new signage products, which gives us the ability to create your important new signage products, even including expert installation on location, without ever requiring physical or in-person interaction. As government recommendations can change suddenly during this challenging time, we are supplying immediate fabrication on straight forward assistive signage, and once you have been set up with us as an existing client, we will be able to fabricate replacement signage components with nothing except an email or a quick phone call with the requested modifications.
Every Sign Your Business Needs!
You can depend on Extreme Signage to develop eye-catching hospital, safety, and wayfinding signage. Whether you require temporary or adjusted signs and graphics to inform potential customers about your hours, contact details, or other important business information that may require alterations are a result of the coronavirus, or are using this time update your interior signage without impacting business operations, Extreme Signage fabricates functional business sign, graphic, and banner components to assist your business.
From safety signage to trade show displays, our specialists understand the unique needs of different niches and different businesses. We examine your facilities and space, branding, and company goals so we can develop the right signs.
If you want just one particular graphic or a cohesive collection of commercial signage, Extreme Signage will develop it.
Our commercial sign services include:
Free Expert Sign Consultation
Extreme Signage is fully committed to providing the help you need as we go through this confusing time. Our reliable, skillful staff is ready to provide the branded, custom commercial signs required to effectively promote product promotion, brand reinforcement, wayfinding, or customer support.
Call Extreme Signage at (727) 592-5509 for your Free Consultation with a Signage Specialist!