Commercial Truck Wraps
Do you use trucks to make deliveries, perform tasks for clients or even use them as corporate vehicles? If so, it makes sense to maximize the marketing potential of your commercial trucks using custom truck graphics and wraps that properly display your brand message, contact information as well as the business logo.
When you publicize your branding, your increase your visibility to the public including travelers, those on the streets as well as anyone who might be looking out the window. A fleet of branded business vehicles not only build brand recognition by constantly spreading your message but ideally assures your current and potential customers that you are a serious and professional company, ready to do business or work for them.
Call Extreme Signage today at (727) 592-5509 for a Free Consultation with a Truck Wrap Expert!
Truck Wraps are a High Visibility Marketing Tool
Chances are you take the same route to and from work on a daily basis. If your business vehicle is the same as others, you are just another car passing by in a nondescript manner. But what if you take advantage of custom vehicle wraps? You will certainly start to notice more potential clients approaching you, more business calls and suddenly, everyone seems to recognize your business.
Well, that can be attributed to the fact that vehicle wraps or graphics offer wide exposure for your branding message and also give you a consistent branding effort. Most people take the same route to work every day and that means you will be passing the same individuals on a daily basis. If a person were a carrying a sign, you would certainly remember them as per such. The same applies to your business truck. A wrap transforms your business car into recognizable and memorable custom art that reinforces your branding message every time you drive around.
Entirely Customized for Your Needs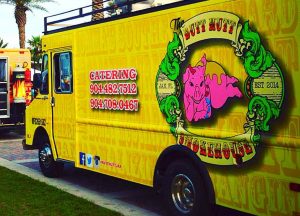 Extreme Signage is aware that every company is different, with distinct marketing. You need your graphics or wraps to do the marketing for you and for that to be effective, it needs to be professional and eye-catching, with elements that are not only clear to see from a distance, but ideally complements the shape of your truck. The design also needs to be cohesive with your company. We have a team of designers with exceptional skills in the same.
Extreme Signage specialize in designing, manufacturing and installing:
Full Truck Wraps
Partial Vehicle Wraps
Custom Stickers, Decals and Graphics
Perforated Window Film
Car Magnets
Numerous companies use various types of vehicles to run their business and so, we diversify our services for any type of car from ATV's to RV's. You can count on us to create a cohesive design as well as tweak it so that it fits your car type, ultimately allowing for brand consistency.
Protect Your Investment
Vehicle wraps for business are more than just an ideal marketing tool. The vinyl film used to create the wrap is also durable and so, it acts as a layer of protection to your car's paint job. The wrap shields it from road wear and weathering and so, it protects your investment. Business trucks are undoubtedly a long-term investment for a company and so, it makes sense to take the required measures to increase their longevity and value as well.
Proper installation is crucial to ascertaining that your truck wrap is not only appealing but offers the level of protection you require. You can count on our team of professionals to handle the whole process from designing and fabrication to installation, thus giving you a complete product that you will be proud to put on the road.
Also, if you have an existing truck wrap that has been damaged, regardless of who worked on it, we can help you put it back in pristine condition.
Free Consultation
We are a local signage company that specializes in complete vehicle branding using wraps and other graphics. You can avail our services in order to increase your visibility, attract new clients and protect your vehicle investment using quality and durable truck wraps. We are your go-to service for appealing and cohesive business signage that complements your brand and improves visibility. As mentioned above, we have a team of skilled experts that work hard from the design to the installation and even servicing stage to ensure that you have a product that will help you achieve your marketing goals.
Call Extreme Signage today at (727) 592-5509 for a Free Consultation with a Truck Wrap Expert!